SEAHAWK OWNER CHRIS DILLON AND C.A.S.T. FOR KIDS
Seahawk Owner Chris Dillon and C.A.S.T. for Kids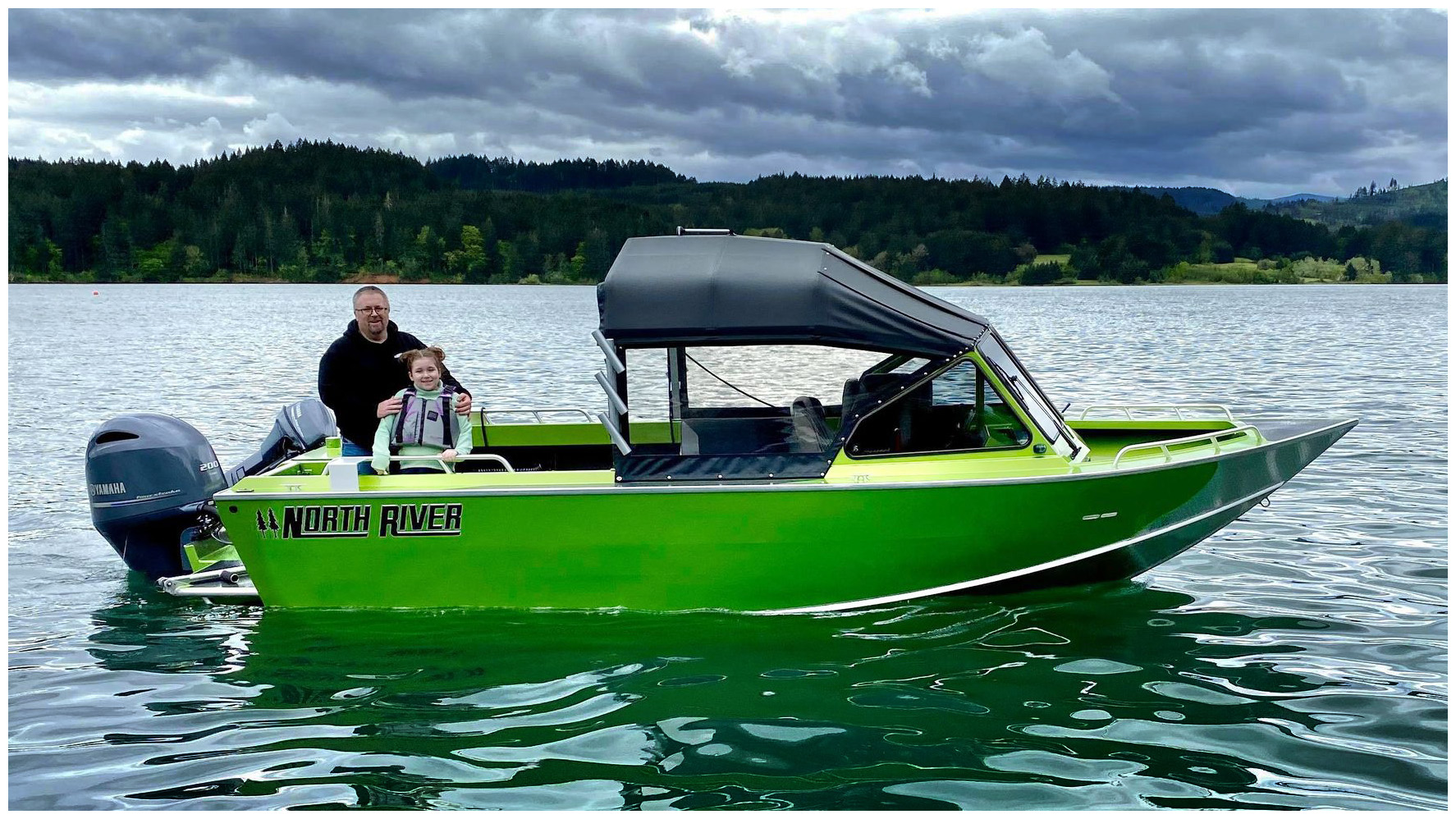 Tell Us About Which North River Boat Model You Bought, and What Factors Influenced Your Purchase?
I bought my first boat 7 years ago. It was a 15' Smoker Craft Alaskan. I got it for the right price and used it as a test boat to see if I would spend enough time on it to justify looking for something larger. That boat and I were inseparable! I couldn't get enough weekends in the boat. Ever.
Twelve months later I started looking for a larger boat, within a budget. I'd had my first real experience on an aluminum, northwest style boat when a friend took me out in his North River and I loved it. So, a North River boat was on my mind when I started looking at used boats.
The North River boats I found used were getting some of the highest prices on the market so for budget reasons I settled on a 19' Alumaweld Stryker. That boat worked well for me for many years. But, I started to outgrow it because I wanted the ability to go anywhere, including the ocean, where I spend most of my boating time.
Knowing I had a buyer for my used Alumaweld boat I began to start looking for a larger, more capable boat. Again, budget came to mind first thing and I had a figure in my head that I could afford, payment-wise.
As I usually do I consulted my sister who is infinitely smarter than I am about financial matters. She advised me that if I was going to finance the boat, that I should be sure not to finance a compromise. In other words, she advised me not to allow $100 or $150 difference in monthly payment dictate my next boat purchase. I really took that advice to heart and decided to buy a brand new North River Seahawk.
"My sister advised me not to allow $100 or $150 difference in monthly payment dictate my next boat purchase. I really took that advice to heart and decided to buy a brand new North River Seahawk."
I had comparison shopped other aluminum boat brands over the past three years of boat shows and continually came back to a North River boat as the right choice. The fit, finish, and overall build quality of these boats is unmatched. While I love features such as the aluminum floor that won't wear out, the real icing on the cake that convinced me to go with North River was being able to add a transom entry.
That's how I ended up with my boat, a 21 foot Seahawk Outboard in Viper Green with Yamaha power (which was also a requirement I had). Great boat, great power and oh, what a color! Clemens Marina took excellent care of me through the entire process, and now I own the boat of my dreams. I still have to pinch myself once in a while to make sure that I'm not dreaming.
Since buying your North River boat, what experiences have helped you know it was the right decision?
In the brief time I have owned my North River boat I think the most rewarding experience so far has been crossing the bar out of Newport, Oregon.
We were crossing during the peak of a larger outgoing tide in 5' conditions. I could immediately feel the difference in handling. The wider beam, longer hull with offshore bracket, and the suspension seats made the ride comfortable and better yet more confident than any previous crossing in the old boat.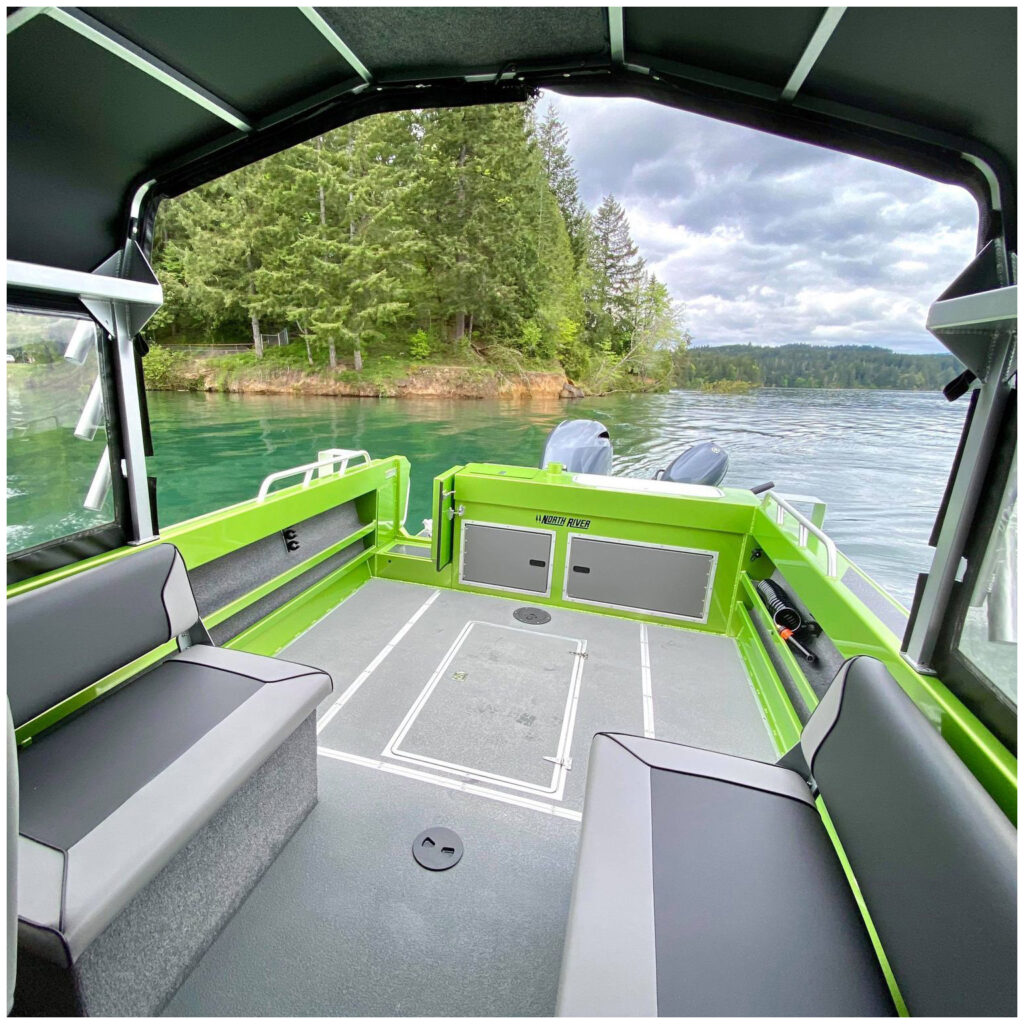 One of Chris' favorite features is the transom door which helps his family get easily on and off the boat.
Another rewarding experience is taking my dad out in the boat. My dad is a cancer survivor and disabled veteran. Thanks to the transom door, he's able to get on and off the boat easily. It's so nice to be able to keep him doing what he loves to do. My wife and daughter love the transom door feature as well. As a family, the boat makes it easy to hit our favorite lakes, anchor up, swim and BBQ the summer away. It just doesn't get much better.
And speaking personally, it's the sense of pride I feel knowing I own the best boat on the water. Life is truly better in a North River boat.


Tell us about your recent experience with C.A.S.T. for kids?
The C.A.S.T. for Kids Foundation is a national organization created to help get special needs kids, with family members, take a break from their daily lives, get out onto the water, and make memories fishing and crabbing.
This summer I was invited by a friend to volunteer my time and my boat for the C.A.S.T. For Kids fishing event in Newport, Oregon on Yaquina Bay.
I have not volunteered for something like this before and I am so glad I did. I made a late attempt to get in contact with North River boats to see if they could donate some t shirts, key chains, stickers etc. We were unable to make it happen so close to the event, but at last minute I got a phone call from Chris, from North River.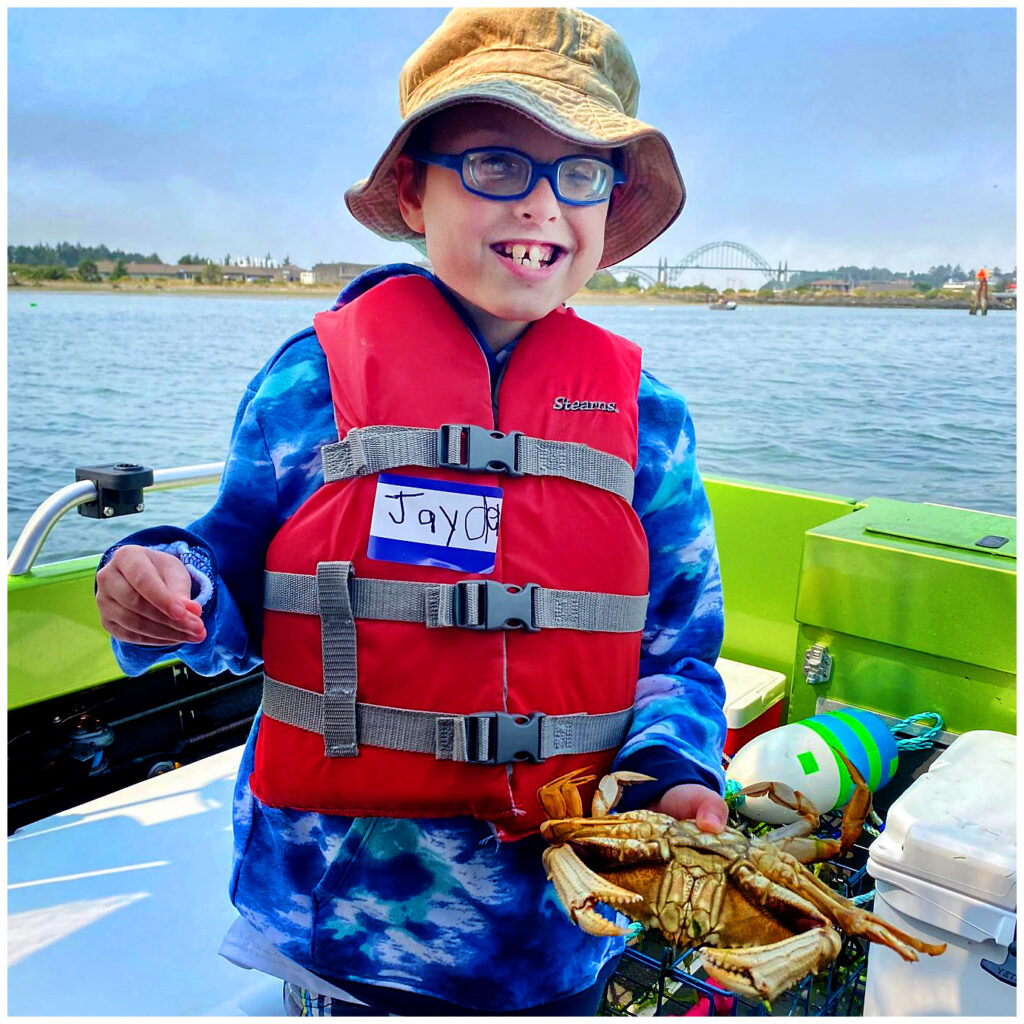 Chris took Jayden out crabbing for his C.A.S.T. for Kids outing in Newport, OR
Chris told me he felt bad that they couldn't make things happen for us and that they would be donating $1000.00 to the event. This was beyond great news as it turned out that the foundation had a budget shortfall for the event that was about $1000.00.
I was so proud to be able to assist in raising the funds and thought it showed how great a company North River is.
We had the pleasure of taking Jayden and his grandparents out for the day and put him on the crab even though fishing wasn't what I would describe as hot. I took the time to put him at the helm, show him how we read charts and how the fish finder works. We also made a call to the Coast Guard so he could get a sample of radio communications and a bar report, even though we were not crossing.
He was entertained and engaged the entire trip during which we made a lot of great memories in just a few short hours. It absolutely filled me with joy to see him and his grandparents smile. We finished the day with hugs and high fives and he is planning on asking for me at next year's event!
---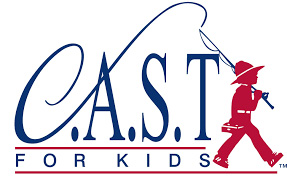 C.A.S.T. for Kids is a nonprofit enriching the lives of children with special needs through fishing. North River was proud to sponsor the Newport, OR event in 2021. Learn More.
Comments are closed