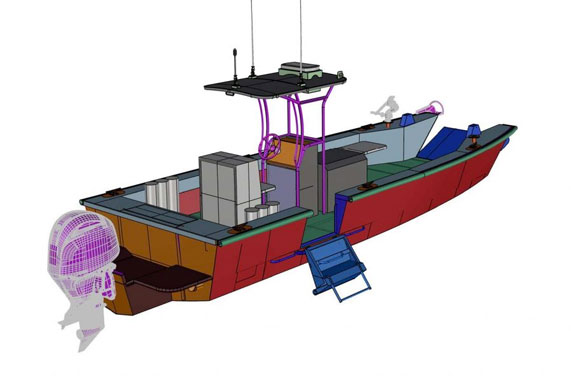 FREEDOM
The North River Freedom is packed full of all the right features to perform your daily Fire / EMS duties. This purpose-built Fast Response Rescue / Fire Boat is designed specifically for those departments protecting smaller marinas, lakes, bays and shallow water shorelines.
Available in 21' – 26' and easily trailerable with a wide 8' 6" beam, the Freedom offers firefighting capabilities from 200 GPM to 500GPM. A spacious aft mounted T-Top Center Console, wide bow loading ramp, folding side dive door, Scuba/SCBA tank storage and center mounted fire engine compartment are just a few highlights of this affordable highly maneuverable Fire / Rescue Boat.
FIRE • RESCUE • EMERGENCY RESPONSE • DISASTER RESPONSE • EMT • SEARCH & RESCUE
• NFPA 1925 Type V Compliant
• Bow Loading Ramp with electric actuator
• T Top Center Console• Overhead radio mounting box
• Mounting brackets for light bar, radar, FLIR and antennas
• Complete electronics suite quoted on request
• Leaning bolster w/ flip up seat integrated into storage compartment
• Hinged folding dive door w/ integrated ladder
• Scuba/SCBA tank storage (port &starboard)
• Choice of single or twin outboard motor propulsion
• Choice of 200 GPM – 500 GPM center mounted fire pump
• Sea chest located for superior performance and flooded suction
• Folding stretcher table integrated into front of engine compartment
• Port and starboard manifolds for TFT VUM & choice of manual monitor
• Self-bailing aluminum deck with drains & freeing ports
• Many more standard features and options to choose from
Note: Boats in gallery photos may include
optional features not included in standard base pricing.