Tournament Fishing the Great Lakes with Tina Lamer
Tournament Fishing the Great Lakes with Tina Lamer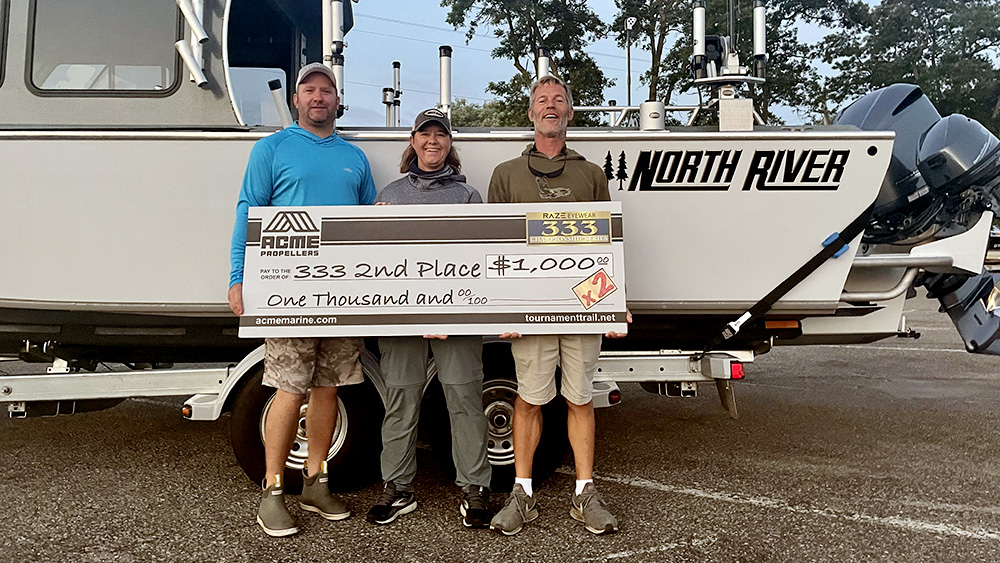 Thanks for doing this interview, Tina!
Let's start with an easy question … Do you remember catching your first fish?
In all honesty my first fish was probably a bluegill caught in the neighborhood pond. Not so exciting! As kids we spent hours there.

My first substantial fishing trip memory was a family vacation we took to Canada. Dad hauled our little 14' boat and camping gear 10 hours north. We trolled for walleye and pike. One specific memory I have is when reeling in a 14" walleye a pike attacked it. That pike wasn't giving up his dinner! I fought it until we could view it next to the boat. Mind you, I was only 8 years old but that was the biggest fish I had ever seen! Eventually the pike let go of that poor walleye but we had an awesome story to tell the rest of our family back at camp.
What are your target species, how do target them and what are your primary tackle configurations?
Here in Michigan the Great Lakes provide us with lots of options.  We primarily target King and Coho salmon.

We also catch Steelhead, Browns and Lake Trout. Salmon fishing in the spring starts with trolling in shallower depths pulling Pro King Spoons and Brads Thin Fish body baits.

As the weather warms we incorporate Pro King Flashers and flies, Big Weenie meat rigs behind Bechhold flashers. Later in the fall we add Silver Horde J Plugs to the mix. We always start with a variety of baits and colors until we find what the fish want. 

We use a combination of rod and reel set ups. Our spread consists of 6 rods on each side of the boat. Three long lines on the outside, including copper or lead core behind Offshore planer boards. Shortest, lightest line on the outside, heaviest on the inside. This allows fish on the outside board to be reeled overtop of the other lines inside of it. Next are the high and low wire divers with a regular or mag Dispy.

Finally, last but not least, is the Traxtech down rigger with a 12 to 20 pound ball depending on target depth. All rods can run any tackle set up.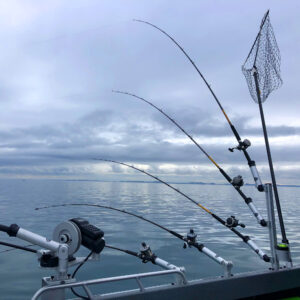 Tina's team fishes tournaments with six lines out, per side.
What do you like about tournament fishing?
When it comes to tournament fishing I love the competition! You know you're going up against the best fishermen or women in that area. My 25' Seahawk Hardtop is sometimes the smallest boat in the tournament. I love running against the big glass offshore boats. We're making a name for ourselves in tournaments.

Being the only North River on the lake we stand out. So, it's hard to hide when we're on fish. But even though people follow us they still have to know how to put fish in the boat.
What's a typical tournament fishing day like for you?
Fishing tournaments generally start days before the actual tournament. We replace line, leaders and check all the hooks on our baits. We try to arrive 2-3 days before the tournament to scout the location and get in pre-tournament fishing. Most tournaments are two days, weather permitting. The tournament day starts with arriving at the boat an hour or so before the shotgun start. Baits are discussed, copper or lead core rods are chosen based on the target depth we plan to start at.

Before the start, boats congregate within a 1/4 mile of the pier heads, aimed in all directions. The tournament director does a countdown on the radio and we're off!

 I always try to be out in front. Nobody wants to be swamped behind a 50' Viking! The Seahawk jumps right out of the hole at the start signal and I run her hard to get away from the pack. Sometimes we run up to 25 miles before setting up to fish. 

Tournaments have an end time that you have to be back inside the pier heads. Spotters watch for boats and we call on the radio. It's very important to plan for enough time to run back in. Nobody wants to be late for the weigh in and be disqualified with a full fish box.

Tournaments vary, when it comes to the number of fish and species allowed to be weighed in.  After weigh in we go back to the boat, double check all tackle and do it all over the next day.   

Which model of North River boat do you have?
What are the power configuration, the electronics and your primary tackle?
My boat is a 25' Seahawk Hardtop. It has a Yamaha 300 as the primary engine and a Yamaha 20 kicker for trolling. I chose Garmin electronics. My in-cab graph is a 1242xsv and mounted in the back is a 943xsv. Garmin Reactor Kicker 40 is our autopilot and radar is also Garmin. Fishhawk XD4 is used for speed and water temps at the ball. Shimano a re our go to rods and reels. Down riggers and rod holders are from Traxtech.


There aren't very many North Rivers in the Great Lakes region.
How often do you have people ask about the boat, and what do you usually tell them?
My North River generates a lot of attention. Whether towing it down the road or at the launch. I love my boat and if people approach me I always make time to discuss the boat and answer their questions.

Oftent, I invite them on board to have a look around. Most have never set foot on this style of boat. I like to talk about how open and roomy the boat is to fish on. Also how solid the ride is and how well it handles the rough water. We talk a lot about having a cab and protection from the elements, rain or shine. I've also had quite a few people message me asking questions about the specs of my boat, or if there's anything I'd change, etc. I always give an honest opinion. 


We were able to continue fishing when others couldn't because my team was comfortable and confident in my boat. 
Why did you choose to buy a North River boat?
How has the North River boat met your expectations, fishing in the Great Lakes?
I was in the market for a new boat because my 18' deep V couldn't do everything I wanted it to do. So, I began with some research based on some requirements. For example, I live 2-3 hours from most of the spots I fish so I needed a big enough boat to do what I need, but that was going to be tow friendly.

Also, I wanted protection from the elements. I'd seen a couple of pilot house style boats on Lake Erie while fishing one day. It made me start doing more research into that style.I started to search social media, asking questions, reading everything I could find. That's how I found out about North River.

In addition to protection from the elements I wanted an ample, open fishing deck. At the time there were just not that many options in my area to look for these types of boats. So, I planned a trip out west, contacted a few dealerships and I looked at all the aluminum boat brands.

The first time I set foot on a North River I knew right away that it was a quality boat. I could see that the fit and finish was above the rest. The boat handled so well that the test ride that day on the Columbia River sold me. It was a big decision to buy this boat and I mulled for weeks over every option to make sure I was getting everything just right. Now that I've had the boat a while I can say that I couldn't be happier with my choices!

My boat has lived up to all my expectations. In fact, there was a nor'easter storm on Lake Erie on the final day of the Fall Brawl fishing tournament last November. Most boats turned around at the pier heads. We went out and fished in 5-6 footers. We stayed dry, which is half the battle on a cold fall day. So we were able to continue fishing when others couldn't because my team was comfortable and confident in my boat. 


Comments are closed