Erie Marine Sales Brings Back Live Boating Events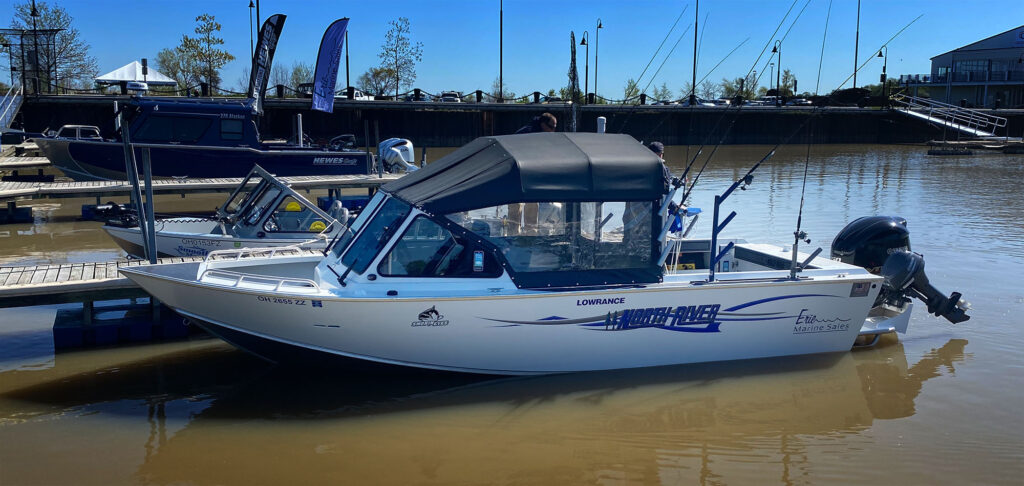 By Joe Depweg, May 3, 2021
This past weekend, Erie Marine Sales held a Test Ride event on Lake Erie at Oasis Marina in Lorain, Ohio. Three North River models were staged on the water under sunny skies, ready for five hours of test rides and customer interaction.
Erie's 25' Seahawk Hard Top in Arrival Blue and color matched Zolatone, powered by Yamaha's F300 & T9.9, was explored throughout the day providing rides over the epic walleye fishing grounds of Lake Erie.

Also on hand was their North River 23' Seahawk Fastback, proudly floating in its contrasting white color and F250 Yamaha & T9.9. This boat was the star of the show as it provided attendees many satisfying smiles.

Erie Marine's 22' Seahawk Outboard was outfitted with the best walleye gear, able to fish 3 rods per person. This particular boat's configuration showed off Lowrance electronics, auto pilot, iTroll's waterproof precision throttle controller and the Recon track system, including their tree style rod holders. Fishing rods with colorful trolling rigs and planer boards danced in the wind, ready to catch the daily six fish limit per person.
Attendance was amazing. Visitors included not only Ohio locals but boating enthusiasts from Minnesota, Michigan and the surrounding Great Lakes Region. The Erie Marine event even attracted a father and two sons from Kentucky who drove up solely for this event to determine which boat best fit their family and fishing needs.

They didn't leave disappointed. This Kentucky family purchased a 23′ Seahawk Fastback at the event!

Erie Marine Sales and North River swag was provided to attendees and Erie hired a catering company which provided delicious barbecue sandwiches. This event was a huge success and we look forward to supporting their next on the water test ride event.
Comments are closed