North River Fleet at Waterfall Resort
Video: © Sport Fishing TV / Bonnier Corporation
See Waterfall Resort in the Season Premier of Sport Fishing TV on the Discovery Channel, April 3 at 6:30 AM ET
As the tip of your float plane's wing dips for final approach into Waterfall Resort, on Prince of Wales Island in Southeast Alaska, an impressive site comes into view.

Below you are 27 North River Seahawk Offshore aluminum fishing boats tied to the resort's floating docks, awaiting the next group of eager fishermen and women to hop aboard.

Overseeing the daily comings and goings of float planes, as well as the daily departure and return of the resort's charter fishing fleet, is Scott McKelvey, Operations Manager for Waterfall Resort.
---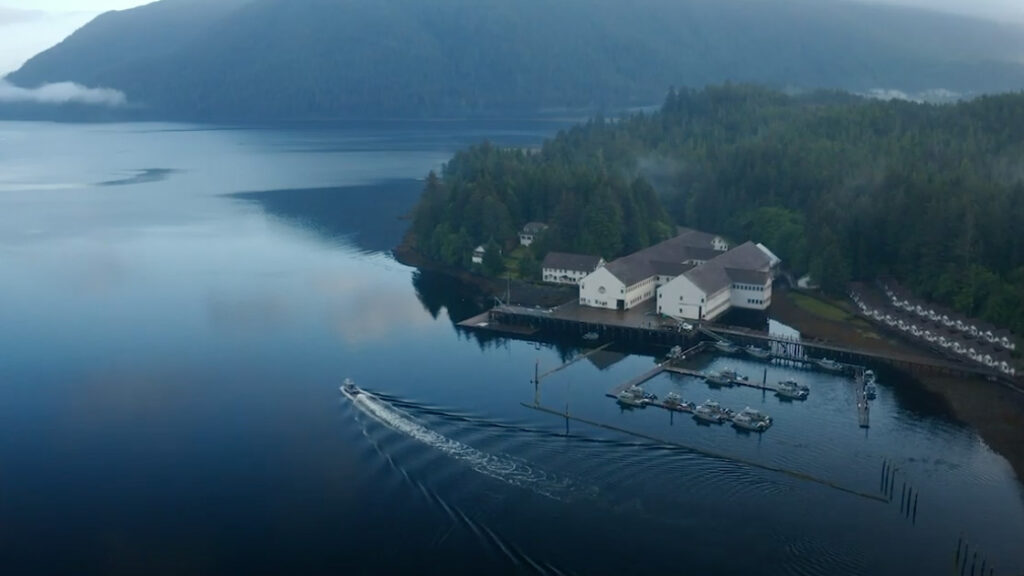 As your float plane approaches Waterfall Resort the facilities, lodging and docks come into view.
When the fleet is in, 27 North River Seahawk Offshore boats are tied up to the docks.
Image: © Sport Fishing TV / Bonnier Corporation
---
Scott, who first began working as a Waterfall guide in 1991, has had a front row seat in the transition of the resort from fiberglass to aluminum boats. The process, which began in the mid-90s, has culminated in the resort's impressive fleet of North River Seahawk Offshore fishing boats.

At 27 vessels, it's the largest private resort charter fleet in Alaska, and one of the largest in the United States.

As the manager of the fleet, Scott has a sense of confidence about guest comfort and safety on the water that stems from the quality and craftsmanship found in the North River boats.

"You're in Alaska up there, and the waters can be extreme," he says.

"The pounding they take in some of the bigger seas and currents that we experience has got to put some torque on the aluminum, on the hull itself" he explains, "and if you don't have a quality build, you're going to be constantly having to replace or repair something, and that goes all the way to the components."

"If the boat is bounced around," Scott continues, "and you have inferior GPS mounts, inferior mast lights, and the list goes on, you're going to constantly be replacing and repairing things. We just don't see that happening with our North River Boats."

According to Scott, the craftsmanship that contributes to the ruggedness and reliability of the boats is complemented by North River's willingness to truly listen to and act upon the needs and wishes of clients.

"One of the nice things about North River was that they listened to what our ideas were, and worked with us in many ways to let us build the boat that we wanted," describes Scott, "They would let us know what they were capable of building, or they would tell us if something wasn't a good idea and explain why. Those things were huge because a person wants a boat that's best for their application."

The Waterfall fleet goes into full fishing mode from the middle of June, and continues non-stop through the third week of August.

SPORT FISHING TV SEASON PREMIER ON DISCOVERY CHANNEL – APRIL 3
If you're interested in seeing the Waterfall fleet in action, check out the upcoming April 3 season premier of Discovery Channel's Sport Fishing TV. The episode was filmed entirely on location at Waterfall Resort and features great Alaskan fishing action, including North River boats.

Here's a list of locations, dates and times to watch the episode:
Discovery Channel: Saturday, April 3, 6:30 A.M.
Pursuit Network: Friday, April 2, 1pm, and Sunday, April 4, 2pm
Bally Sports Sun: Sunday, April 4, 7:30pm, plus multiple airings over the next 12 months
Outdoor America: Check local listings
Prime Video: Posted April 17
SFTV YouTube: Posted April 17
Interest in fishing at Waterfall Resort?
Visit their website for reservation calendar and rates.
Comments are closed